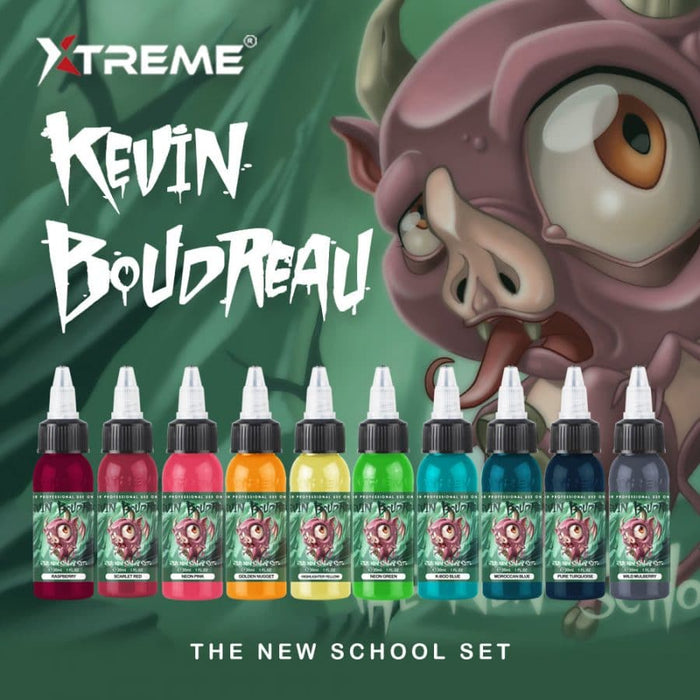 Xtreme Ink Kevin Boudreau New School Color Set
Original price
$110.00
-
Original price
$110.00

ntroducing Kevin Boudreau's Color Set with each color personally selected by renowned tattoo artist, Kevin Boudreau.

Specializing in the new school style of tattooing, Kevin prides himself on creating exclusive, one-of-a-kind custom work based on the shades he's mixed and matched over the years. Here, in this color set, we at Xtreme have collected his favorite colors of tattoo ink in one tattoo ink set.
Each color, including Kevin's personal favorite, 'K-Boo Blue,' has been carefully chosen for its ability to be mixed and blended, allowing artists to discover the most vibrant and unique shades.

Xtreme's unwavering commitment to premium quality is exemplified in this water-based tattoo pigment dispersion. Crafted with utmost care, using only the finest ingredients, it ensures a sterile, organic, vegan, kosher ink that is never tested on animals.

Featuring: Raspberry, Wild Mulberry, Pure Turquoise, K-Boo Blue, Moroccan Blue, Neon Green, Highlighter Yellow, Golden Nugget, Neon Pink, Scarlet Red

One of the standout features of Xtreme inks is their exceptional healing properties. Our carefully formulated inks promote fast and efficient healing, ensuring your clients' satisfaction and comfort throughout the tattoo process. What's more, our colors remain true to their vibrant hues, enhancing the longevity and impact of your artwork.

What sets Xtreme apart is our unwavering dedication to safety. Our pigment chemists have meticulously crafted inks using only the finest ingredients available, guaranteeing a safe and user-friendly experience for you and your clients.

With Xtreme, you can trust that our dedication to maintaining the highest standards runs through every aspect of our business, from sourcing the finest ingredients to crafting inks that meet rigorous standards, resulting in a superior product that prioritizes environmental responsibility and client safety.