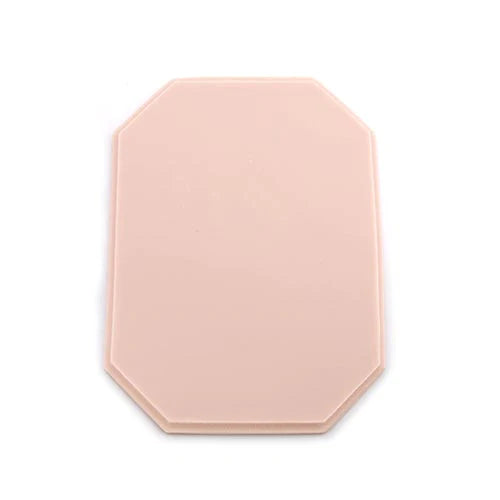 A Pound of Flesh 11" x 8.5" Fitzpatrick Skin Tone 2 Tone Octagon Plaque
Sold out
Original price
$39.99
-
Original price
$39.99
A sharper-edged version of our APOF Rounded Plaque, our Octagon Plaque is for those of you who prefer softer edges but want the same plaque-shaped personality to enhance your work. If your 3D portfolio is due for an upgrade, our pink tone APOF Octagon Plaque awaits your masterworks, offering ample space for your inspiration to unfold.
Dimensions:
11"(L) x 8.5" (W); 7.5mm Thickness
Key Features:
One tattooable surface
Octagon shape with beveled edge frame
Made with silicone and rubber-based materials
Functions as a decorative canvas for showcase or display
Stencil Application Tips:
Step 1: Apply isopropyl alcohol to a sheet of paper towel. Then wipe the tattoo site with your paper towel to clean it.
Step 2: Soak another sheet of paper towel with isopropyl alcohol. Then run a Speed Stick deodorant directly on the alcohol-soaked paper towel.
Hygiene Tip: Never apply the Speed Stick deodorant directly to the tattooable surface.
Step 3: Rub the Speed Stick deodorant and alcohol mixture directly onto the tattoo site.
Step 4: Apply your stencil evenly. Put pressure on it for about 5–10 seconds.
Step 5: Peel away your stencil carefully.
Step 6: Blowdry your freshly applied stencil for 5–10 minutes. Then let it dry fully overnight.