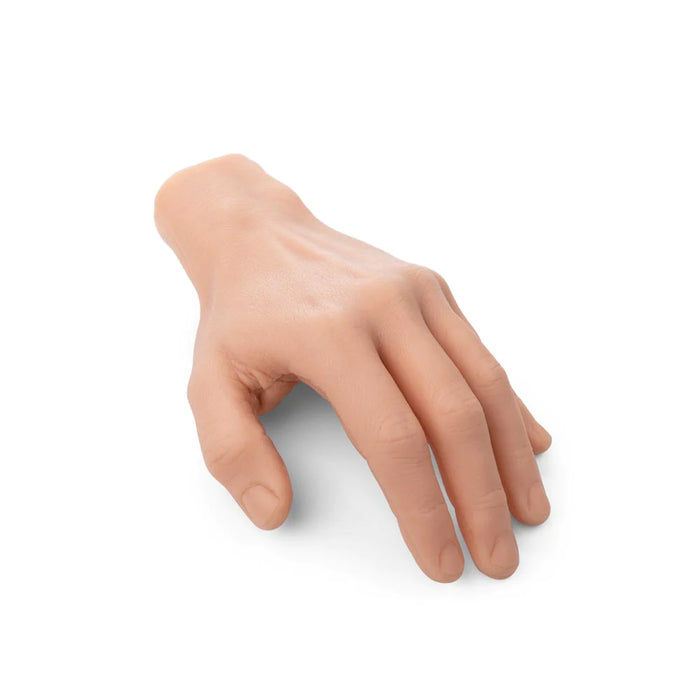 A Pound of Flesh Hand with Wrist
Original price
$50.00
-
Original price
$50.00
Practice new techniques, strengthen your existing skills, or create a 3D portfolio with our synthetic tattooable hand with wrist. Perfect for beginners and professionals alike, this silicone and rubber-based hand in Fitzpatrick tone 2 has the shape and curvature of a real hand to closely recreate the experience of tattooing actual skin. Eliminate the risk of practicing on real people and give potential clients the opportunity to see how your work looks on "skin" firsthand.
Dimensions:
~10" (L) x 5" (W) x 3" (Thickness)
Key Features:
Fitzpatrick skin tone 2

Life-like in size and shape
Made with silicone and rubber-based materials
Apprentices and beginners can practice tattooing techniques
Professionals can use as a 3D portfolio or canvas to try new equipment and techniques
Stencil Application Tips:
Step 1: Apply isopropyl alcohol to a sheet of paper towel. Then wipe the tattoo site with your paper towel to clean it.
Step 2: Soak another sheet of paper towel with isopropyl alcohol. Then run a Speed Stick deodorant directly on the alcohol-soaked paper towel.
Hygiene Tip: Never apply the Speed Stick deodorant directly to the tattooable surface.
Step 3: Rub the Speed Stick deodorant and alcohol mixture directly onto the tattoo site.
Step 4: Apply your stencil evenly. Put pressure on it for about 5–10 seconds.
Step 5: Peel away your stencil carefully.
Step 6: Blowdry your freshly applied stencil for 5–10 minutes. Then let it dry fully overnight.