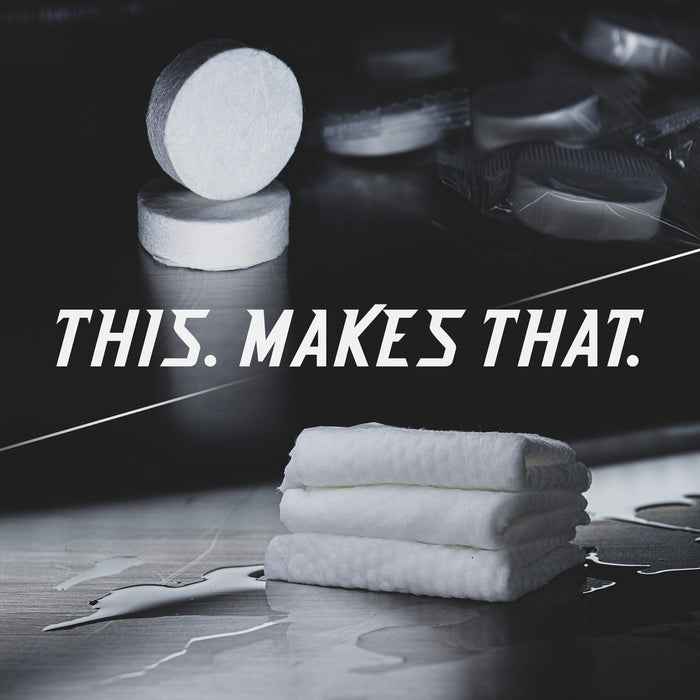 Electrum Towel Tabs
Original price
$12.00
-
Original price
$12.00
Details
Electrum Towel Tabs - 100 ct. 
Electrum Towel Tabs compressed procedure towels are a MUST have item! Save big time and make set up and travel easier than ever!
CONVENIENT AND VERSATILE - Make your life easier with the ALL-IN-ONE wipe, towel, or even use as toilet paper! These compact and lightweight towels are indispensable for shop use, road trips, conventions, backpacking, glove box, gym bag, purse, or even those dreaded cleaning chores.
DURABLE AND REUSABLE – Extremely durable due to the interlocked diamond pattern. Can be rinsed and reused multiple times, and they're even machine washable -- they actually soften up after washing.
HYPOALLERGENIC and UNSCENTED - No toxic chemicals, preservatives, fragrances, or dyes. Just add 1Tbs of water and enjoy watching the magic when they expand. To take it one step further, you can add Electrum Cleanse for an easy antiseptic wipe.
100% BIODEGRADABLE - All natural fibers derived from SUSTAINABLE cellulose material. Tested for harmful substances and produced sustainably in accordance with OEKO-TEX guidelines. This purchase is a smart choice. It shows you support a more sustainable environment and you're interested in a better tomorrow.
BAG OF 100 TOWELS