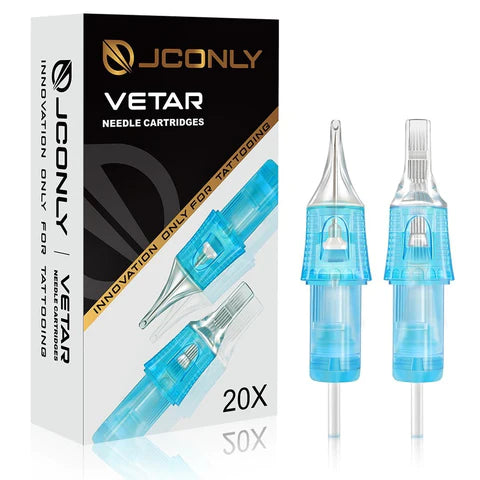 JCONLY VETAR Round Shaders
Sold out
Original price
$25.99
-
Original price
$32.49
JCONLY VETAR Needle Cartridges
was created by JCONLY Team. We hope to make more innovation for tattoo artists. The JCONLY VETAR cartridges are designed
with safety in mind. All benefits are making these cartridges safer than ever to use, so you can concentrate clearly on tattooing!   
JCONLY VETAR Needle Cartridges
has been designed and researched for long time. We continue to test and improve it in order to achieve the most perfect state.
Our team believes that good cartridges can help tattoo artists better show their own value and talent on tattooing, so as to create outstanding works.The design
of VETAR cartridges pursues details and delicacy, and we also take into account the comfort of tattoo artists when using them. In the future, our team hope that
more tattoo artists can participate in our product design and continuously improve products.
---JCONLY VETAR Needle Cartridges Features
✱ Medical grade PC material shell
,
more safety than the PVC material. The needle is made of Japanese standard medical stainless steel,
with sharp needle points and neatly arranged
✱ The open needle header is easy to clean, more conveninent for tattoo artist
✱ Special rebound device, the tattoo artist's work is smoother, and  shows the perfect needle working
✱ Large ink storage capacity, smooth ink discharge, the round liner needle adopts a funnel-haped design, which stores more ink, 
and the ink discharge is very uniform, without ink jetting, the round liner needle can tattoo longer line
✱ The shape of the needle shell is designed according to artificial mechanics, and the grip is comfortable, so that the tattoo artist will
not be tired after working for a long time. There are anti-skid strips on both sides, which is very convenient when inserting and removing needles
✱ The RL needle adopts a funnel-shaped design, which improves the ink storage and the ink flow is very uniform
✱ The magnum needles tips has a groove design on the back, its function is to increase the ink storage function
✱ The safety membrane design to prevent ink back flow can better protect your tattoo machine
✱ The inner stabilizer design of the round needle can make the needle more stable
✱ Complete sizes to meet a variety of tattoo styles, JCONLY Vetar needle cartridges matches most tattoo machines on the market
✱ There is a unique JCONLY exclusive logo design on the back of the needle shell to better distinguish other brands  
✱ All the needle production and assembly are carried out in the aseptic workshop, and are packaged after disinfection and sterilization
✱ The back of the needle shell has a concave design, which is convenient and cozy for the fingers when tattooing
✱ JCONLY Vetar cartridges are made and assembled in the most hygienic condition 100% sterilized by E.O. Gas. Package with 20 PCS in one box