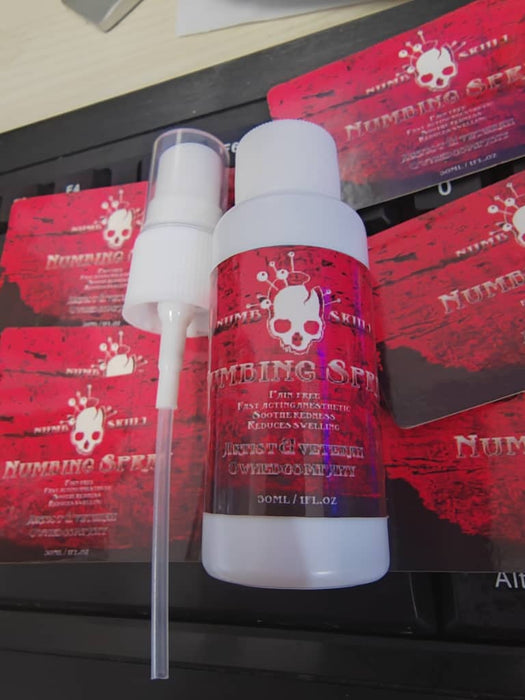 Numbskull Numbing Spray
Save

44

%
Save

9

%
Original price
$45.00
-
Original price
$675.00
Warning:
L Tattoo Spray should be used modestly. You can always spray more if & when needed.
DO NOT OVERUSE
Numbskull Tattoo Spray will keep the area numb for 1-3 hours depending on your skin type and location on the body.
For long procedures lasting hours over large areas; it is recommended to apply Numbskull Numbing Cream prior to starting for a completely Pain-free tattoo session. Use Numbskull Numbing Cream before starting. As painless the numbing cream begins to wear off, apply Numbskull Tattoo Spray to any areas already worked on for immediate relief throughout the rest ofthe session.
Follow standard tattoo sanitation practices when applying.
Steps For Use:
Spray modestly on the area for which pain relief is desired.

Wait a few minutes to measure the numbing effect.

Re-apply as needed.
And put on the front Numbing Spray by Numbskull
Ingredients:
Active Ingredients:
Lidocaine, Prilocaine, Epinephrine, Other Ingredients:
Propylene Glycol, Hyaluronic Acid, Kojic Acid, Purified Water, Sodium Hydroxide, Trisodium Citrate Dihydrate, Sodium Hydroxide, Butanediol, Bacitracin.
Caution:
Store Above 0°c And Below 30°c. (Keep Out Of Direct Sunlight)
For exteral use only.
Avoid liquid in the eyes and mouth, toes and genital areas
Keep out of reach children.
Shelf Life: 3 Years
We strongly recommend doing a test patch on your skin a day before your procedure