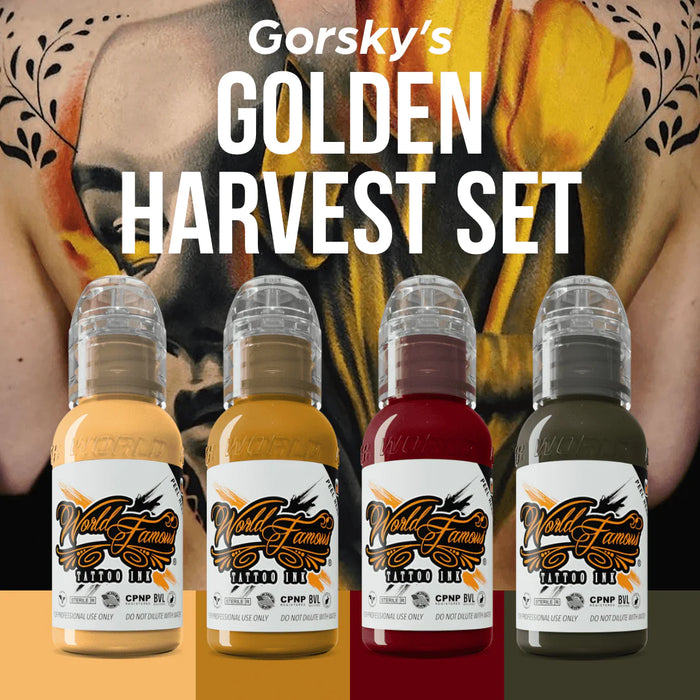 World Famous Gorsky's Golden Harvest Set
Original price
$72.00
-
Original price
$72.00
What it is: A four ink set that perfectly captures the tones and essence of Autumn.
Great for: Every skin tone. Use this ink to shade, fill, or combine it with other colors to make any color you can imagine.
A set
that
represents
the season of transformation
,
Gorsky's Golden Harvest Set features 4
earthy inks
that penetrate the senses.
Equinox:

A celestial

beam of muted brightness, a

cream

-

tinted

, soft approach to

aura

light

,

and nude impressions

.

Golden Maple:

A

Dijon,

riveting

,

antique

yellow

ish

hue reminisces of its fall inspirations

.

Red Leaf Reaper:

T

he fiery kiss of fall leaves, a dessert red for desert

-

like

depictions.

Dark Autumn:

Green like the forbidden forest, with black impersonations.

Perfect for

those peak points in a dimensional tattoo.
World Famous Tattoo Ink brings you premium quality tattoo ink with super high pigment content and an amazing flow rate. World Famous Ink flies into the skin and heals super fast. With a massive palette of colors for all of your great artwork, this ink will make your job as an artist much easier, and make your art really pop!

Contains zero animal products
Never tested on animals
More reliable and safer on skin

Longer lasting ink and better vibrancy