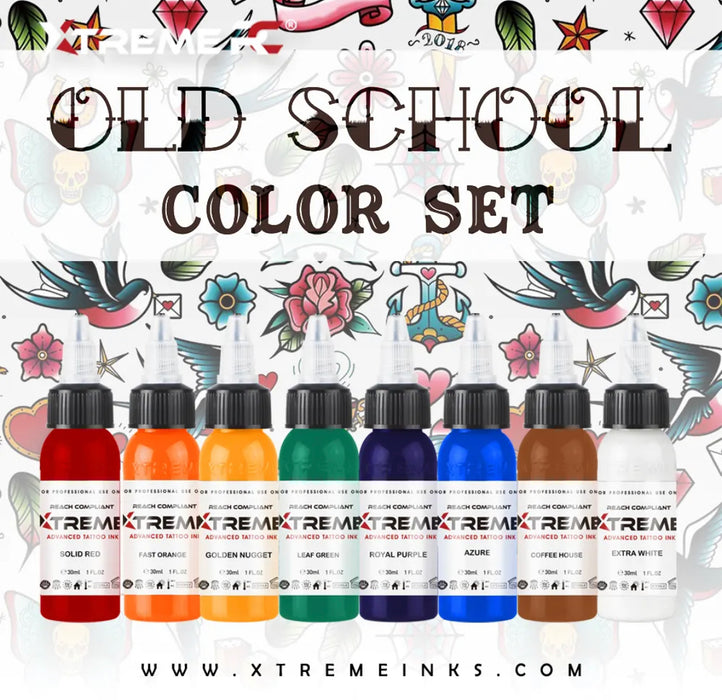 Xtreme Ink Old School Color Set
Original price
$88.00
-
Original price
$88.00
Xtreme's Old School Color Set
Colors included: Solid Red, Royal Purple, Azure, Gold Nugget, Extra White, Coffee House, Leaf Green, Fast Orange.

Immerse yourself in the captivating world of retro and old school looks, where classic styles are revived and celebrated.
This remarkable color set offers a complete range of meticulously selected and crafted color concoctions, designed to bring out the best in your vintage-inspired artwork.

The beauty of the Old School Color Set lies not only in the individual colors but also in the careful curation of the collection.
Each hue has been meticulously selected to ensure that you have a complete range of colors, perfectly suited for recreating the iconic retro looks. Whether you're aiming for bold, eye-catching designs or subtle, nostalgic accents, this set empowers you to achieve remarkable results.

With Xtreme's Old School Color Set, you can seamlessly blend classic aesthetics with your unique artistic vision. From vintage-inspired tattoos to retro-themed illustrations, this complete color set provides you with the tools to bring your ideas to life.

Xtreme's unwavering commitment to premium quality is exemplified in our acrylic-free, water-based tattoo pigment dispersion.
Crafted with utmost care, using only the finest ingredients, it ensures a sterile, organic, vegan, kosher ink that is never tested on animals.

Our carefully formulated inks promote fast and efficient healing, ensuring your clients' satisfaction and comfort throughout the tattoo process. What's more, our colors stay true, enhancing the longevity and impact of your artwork.

Xtreme's Old School Color Set opens up a world of possibilities, allowing you to create stunning retro looks that pay homage to the golden era of artistic expression.

We Make Inks Do More