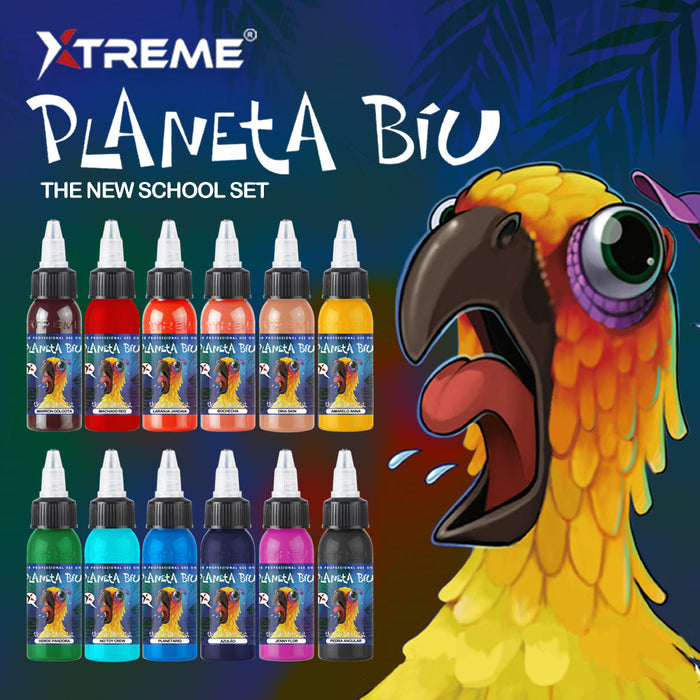 Xtreme Ink Planeta Biu Set
Original price
$132.00
-
Original price
$132.00
Introducing the Planeta Biu Color Set:
Colors included: Bochecha (Light Red), Azulão (Dark Blue), Planetario, No Toy Crew, Verde Pandora (Green), Jenny Flor (Flower), Machado Red, Laranja Jandaia, Amarelo Anna (Yellow), Dina Skin, Marron Golgota (Dark Brown), Pedra Angular (Grey).
Step into a world of artistic possibilities with the exclusive Planeta Biu Color Set, designed by the renowned Brazilian artist himself.
Inspired by the mesmerizing beauty of the Jandaia parakeet, one of nature's most colorful birds, this New School 12-color set captures the essence of vibrancy and creativity. Planeta Biu dedicated over a year to developing these special colors, ensuring that artists can achieve optimal mixing and dynamic color combinations effortlessly.

Each ink in this set is crafted with precision and adheres to our strict standards of excellence. Our inks are sterilized, organic, vegan, kosher, and never tested on animals.

Part of the joy of tattooing lies in the journey of creating the perfect color tone. With the Planeta Biu Color Set, artists can explore a world of possibilities, mixing and blending colors to achieve unique and captivating tattoo designs.
The colors in the Planeta Biu Color Set are thoughtfully named to pay homage to the influential people and experiences in Planeta Biu's life.
From the vibrant Bochecha (Light Red) to the deep and enchanting Azulão (Dark Blue), each color tells a story and adds depth to your artwork. Whether you're seeking the lush green of Verde Pandora or the radiant beauty of Jenny Flor (Flower), this set provides a comprehensive palette for endless creative expression.

With the Planeta Biu Color Set, you can confidently create stunning tattoos that embody the spirit of your unique style and captivate the imagination of your clients.